What's New?
---
ONLINE BIDDING INFO & TUTORIAL
Need help signing up & navigating through our online sale? The links below will help answer any questions you may have about buying/selling online:

ATTENDING SIMULCAST

GENERAL INFO FOR BUYERS & SELLERS

SIMULCAST TUTORIAL
---
OFFICE NOW CLOSED SATURDAYS
Effective August 21st & until further notice, our office will be closed on Saturdays.
---
RECONDITIONING INVOICES
Effective 02/01/20, all reconditioning invoices for returned vehicles MUST BE PRESENTED WITH THE VEHICLE AT TIME OF RETURN. Invoices submitted for reconditioning after vehicle is returned WILL NOT BE ACCEPTED & NO REIMBURSEMENT WILL BE PAID. This policy protects the Buyer but also ensures fairness to the Seller. Invoices will be checked for accurracy.
---
YELLOW/GREEN LIGHT UNITS
Effective the sale of 02/07/20 there will be a policy change - ALL PRE-SALE INSPECTED UNITS SOLD YELLOW/GREEN LIGHT WILL HAVE AN AUTOMATIC 7-DAY GUARANTEE. There will be an additional $75.00 charge on the buy fee for these units.
This policy allows you to exit the vehicle without having to order & wait for a PSI saving you $40.00 in relation to the normal PSI fee.
---
UPDATED GENERAL CONSIGNMENT POLICY
Effective immediately general consignment policy will be as follows: units will run for 1 week only & if the unit doesn't sell it will be moved to the front lot & must be removed by Thursday 7pm or the unit will be towed at the owner's expense. You must call to reserve your space (maximum of 2 vehicles allowed & vehicles must be here by noon on Thursday). NO VEHICLES WILL BE ACCEPTED WITHOUT A RESERVED NUMBER.
For number reservations call:
(310) 380.4686

---
AR INVOICES - POLICY CHANGE
Effective 3/25/19, all AR charges billed to a dealership must be paid within 7 days. If the charges are not paid within the 7 days, no one from the dealership will be able to receive a bidder badge on sale day.
---
NOW ACCEPTING GM FINANCIAL
We are pleased to announce that starting November 8th we will now be accepting GM Financial for flooring. Please contact us for any further questions.
---
FEATURED CONSIGNORS LIST
Our list of Featured Consignors continues to grow! Check out who's running this week by clicking here & don't miss out: FEATURED CONSIGNORS LIST
---
ANAA TEXT MESSAGING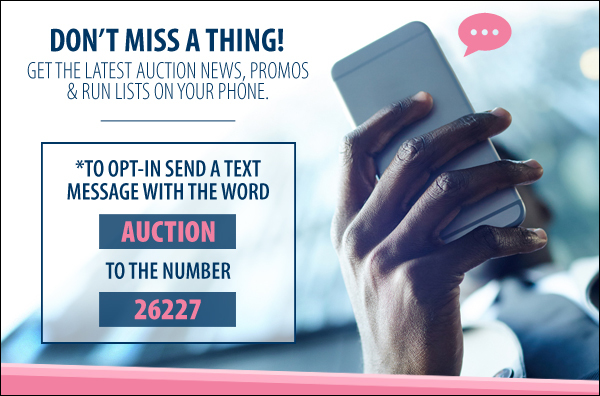 *Message frequency may vary. Message and data rates may apply.
---

UPDATED ARBITRATION POLICIES
We are now using a Red/Yellow/Green Light System & new arbitration policies will take effect which will be more inline with the National Auto Auction Association (NAAA) policies. Please review the arbitration matrix which is posted in the office & online. Any applicable disclosures will be announced by the auctioneer and will be displayed on the in-lane monitors.
Ahora vamos a utilizar un sistema de luz roja/amarilla/verde, nuevas políticas de arbitraje tendrá efecto que será más en línea con las políticas de la Asociación Nacional de auto subasta (NAAA). Por favor revise las nuevas politicas de arbitraje que se publicaran en la oficina y en nuestra pagina de internet. Las divulgacions aplicables serán anunciadas por el Subastador y aparecerán en los monitores de la pista.
CLICK HERE TO VIEW THE ARBITRATION POLICY CHART
---
DEALSHIELD 360 PROGRAM
ANAA Los Angeles is partnering with DealShield & will be accepting the DealShield 360 Guarantee program. What does that mean for you? More peace of mind on your purchases. If you have any questions or would like to sign up for the DealShield 360 Guarantee program, click on the link below.
DEALSHIELD 360 GUARANTEE
DEALSHIELD 360 GUARANTEE (SPANISH)
---
TOW POLICY
All vehicles will be towed from customer parking lot at 8:00pm on Wednesday.
All vehicles will be towed from sold & customer parking lot at 8pm on Thursday.
Vehicles still in the parking lot after this time will be towed by Naylo's Towing at the owner's (buyer) expense. No exceptions.
SoCal Tow & Impound
14107 S. Western Ave.
Gardena, CA 90249
(310) 925-7396
---
VEHICLE HISTORY REPORTS
Issues that arise on vehicle history reports will not be arbitrated after 7 days that the vehicle is purchased. It is the responsibility of all buyers to view & evaluate all vehicle history reports. We provide as much info as possible at the time of sale. Exceptions to this rule will only be arbitrated based on title information.
---

To receive upcoming announcements or to pre-register, see email addresses below for each location:
NOW OPEN
AutoNation Auto Auction - LA
777 W. 190th St.
Gardena, CA 90248
Visit Store Site
855-904-ANAA
CONSIGNMENT SALE - FRIDAY 9:30AM - 12:00PM
Email: ANAALosAngeles@AutoNation.com
NOW OPEN
AutoNation Auto Auction - Orlando
650 N. US Highway 17-92
Longwood, FL 32750
Visit Store Site
855-906-ANAA
CONSIGNMENT SALE - THURSDAY 12PM - 3PM
Email: ANAAOrlando@AutoNation.com
NOW OPEN
AutoNation Auto Auction - Houston
608 W. Mitchell Road
Houston, TX 77037
Visit Store Site
855-905-ANAA
CONSIGNMENT SALE - FRIDAY 9:15AM - 12:30PM
Email: ANAAHouston@AutoNation.com
NOW OPEN
AutoNation Auto Auction - Atlanta
2491 Old Anvil Block Road
Ellenwood, GA 30294
Visit Store Site
855-907-ANAA
CONSIGNMENT SALE - THURSDAY 2:00PM - 5:00PM
Email: ANAAAtlanta@AutoNation.com